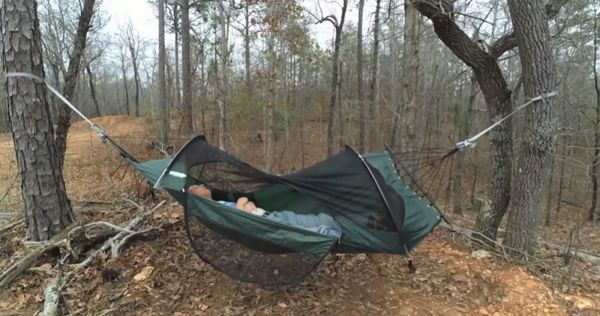 The Lawson Hammock Blue Ridge is not a normal hammock.  It is the best lay flat hammock there is, meaning you can actually lay on your side or even your stomach if you want.
The lawson blue ridge set ups fast, packs up light a small tent, and dries out really fast.  But you really buy the Lawson Hammock because it's so darn comfortable.  Check out this setup:
Lawson Blue Ridge Hammock Review
The LAWSON BLUE RIDGE CAMPING HAMMOCK has become very famous in the recent times due to its features, durability, and usability. To get a clear picture of what you are going to get after buying this hammock, you need to be aware of its features and specifications. And what's better than reading a detailed review based on personal and hundreds of user's experiences.
In this review, we will list all the specifications of the Lawson Blue Ridge Camping Hammock, detailed analysis, and a final verdict which will help you to consolidate your decision about buying this hammock.
Other Hammocks and Products:
So, let's get started!
Product Description and Specifications
If you are already a hammock camper, you might be aware of all the features Lawson Blue Ridge Camping Hammock has. For the beginners and the first-timers, it is vital that they know about the basic description and specifications of this hammock.
Currently, this hammock is rated as #1 by American Survival Guide, Backpacker and Outside Magazine. Its features give it so much versatility that it is bound to be noticed by not only the individual campers but camping societies as well. With Lawson Blue Ridge Camping Hammock, you have the freedom to camp anywhere and anytime as a perfect suspension system eliminates the need to find trees (anchors). The high-quality bug net and detachable rainfly ensure total safety and security from insects and rainy weathers, respectively. They allow zero tolerance for insect and rainwater entering your sleeping area.
This comfortable, waterproof, and bug proof hammock will allow you to relax in your backyard, go camping in the mountains, countryside, desert, beach, or by a river. All in all, it is a perfect solution for your camping needs.
(Click Image to Learn More)
What's the Complete Package?
When you buy Lawson Blue Ridge Camping Hammock along with a suspension system, you get the following items
   Hammock (Forest Green)

   Spreader Bars (2)

   Arch Poles (2)

   Rain Fly

   Suspension Straps (2)

   Premium Wiregate Carabiners (not to be used for climbing purposes)

   Stuff Sack
If you do not buy a suspension system along with the hammock, you do not get suspension straps and carabiners.  
Facts
Following facts will help you get a better idea of the Lawson Blue Ridge Camping Hammock before getting into the review
   Weight: 4.25 lbs.

   Weight Capacity: 275 lbs.

   Interior Length: 90 inches (7.5 Feet, 228 Centimeter)

   Interior Width: 42 inches (3.5 Feet, 106 Centimeter)
With a quality controlled production setup, there will be no variations in measurement and the weight capacity of Lawson Blue Ridge Camping Hammock.
We will discuss the specifications and review each item that comes with the hammock in their respective sections.
Lawson Blue Ridge Camping Hammock Review
Let us begin the review with the most important thing of all; the Hammock itself.
Hammock
We will review both the interior and exterior of the hammock.
Exterior
On the exterior, the body of the hammock has a waterproof coating. This coating not only allows the hammock to be pitched on the ground, but it also provides you with an additional layer of protection. The polyester fibre is rough, wear and tear-resistant and adds to the durability of the hammock. What else do you need on the outside? A hard, rough and tough hammock which is suitable for all weathers and can withstand rain and thunderstorms as well.
Interior   
The interior of Lawson Blue Ridge Camping Hammock is super comfortable and goes an extra mile to provide you with a night of peaceful sleep. Most ordinary hammocks are narrow from inside and get into a banana-like shape with your body weight. Lawson Blue Ridge Camping Hammock distributes body weight evenly, and it results in the creation of a somewhat flat sleeping base.
This base helps you in relaxing while sleeping and refills your energy for the next day ahead. If you use a right sleeping pad with this hammock, you are just going to feel like sleeping in your bed. It has enough space to accommodate almost all of the sleeping bags available in the market.
As the interior length is 7.5 feet and width is 3.5 feet, Lawson Blue Ridge Camping Hammock can accommodate any body type in it. So, you don't want to worry about internal space and weight capacity (275 lbs.). With this much space and room, you can turn your side as per your desires. You can easily adjust a compressible pillow as well so that your neck remains comfortable and strain-free.
When it comes to the livability and user-friendliness, the Lawson Blue Ridge Camping Hammock takes the lead from other camping hammocks. The makers have paid particular attention to detail and minor things to increase usability. Inside you will find two spacious mesh pockets, made of high-quality net clothing, stitched with precision and durable threads.
The roomy pockets are located at arm's length, so you do not have to extend yourself to reach them. They have enough room to keep your wallet, phone, your favourite reading book, torch, and toiletries.
One problem that you face in an ordinary hammock is the provision of hanging reading lights. Lawson Blue Ridge Camping Hammock has solved this as well. It has provided you with two hooks to hang a small reading light to make your reading comfortable and well-lit.
Another thing which deserves highlighting is the provision of Velcro tapes along the sides of the hammock. They keep your hammock tightly closed and reduce the chance of any bug entering your sleeping area. Ordinary hammocks come with clips; clips are not secure and less durable as well.
It is so roomy inside that you can even bring your backpack inside in case of rain and bad weather. You may have to get a little uncomfortable, but you can manage a small or medium backpack inside.
Such little details might not seem that important to you at first. Ask any experienced hammock camper, and he will tell you the importance of such things.
They make your camping life easy and better. We give a full rating to the interior details and quality of Lawson Blue Ridge Camping Hammock.          
Suspension System
The suspension system is secure and sturdy. The equipment that comes with the hammock is durable and can easily handle the mentioned weight capacity. It uses rope clews to connect the hammock to the anchor points. The ropes are threaded from side to side to the spreader-bars and then fixed with the hammock through the metal grommets.
If you know how to tie a hammock to the trees or anchor points, you do not need anything else. One thing you can do to increase the strength of the overall suspension system is to replace the default carabiners with climbing-grade carabiners.
The Tent Poles
The tent poles provide you with a roomy interior. Instead of fiberglass or steel tent poles, Lawson Blue Ridge Camping Hammock has quality aluminum tent poles. They are durable and sturdy. The shock cord running through the poles keeps them together. It makes assembling and packing up easy and less time-consuming.
The Bug Net
The bug net that comes with the hammock is also of exceptional quality. It ensures that no bugs or mosquitoes enter into your sleeping area and disturb you. The entry with the bug net on is made from a single zipped entry on one side. One thing you need to keep in mind while entering the hammock is to let the "door" out so that you do not put your weight on it.
Rainfly
The rainfly which comes with Lawson Blue Ridge Camping Hammock is big enough to cover up the entire hammock. It leaves no space in any case, Velcro it to the bottom, extending past the ends and it ensures all the rainwater stays out. People have spent rainy nights in the Lawson Blue Ridge Camping Hammock with a rainfly on and woke up dry in the morning.
Setting up the rainfly is no big deal. Within a couple of minutes, you can set up your rainfly and go in waterproof mode. What makes Lawson Blue Ridge Camping Hammock rainfly different is its style. It hugs the tent body to form a wrapped-up look, keeping you warm and dry inside. It is so tight and covers up firmly that getting in and getting out of the rainfly becomes a little bit difficult. You ask yourself: is it a big price to pay against staying dry and warm? NO.    
Weight
Weight is one area, where Lawson Blue Ridge Camping Hammock has a drawback. This drawback is only limited to ultra-light backpackers who cannot afford to carry almost 4.25 lbs. of weight with them. There are a lot of camping hammocks out there that weigh around 2 lbs. If you are weight conscious about your hammock, and then you will have to miss out on the entire cool and amazing features Lawson Blue Ridge Camping Hammock is offering. You will also have to settle down for a less durable hammock which may as well not be able to carry your weight. Remember, only a few camping hammocks can comfortably accommodate body weights up to 275 lbs.
When it comes to comparing the weight of Lawson Blue Ridge Camping Hammock with other hammocks offering somewhat same features, it has the best weight comparison. To further lighten Lawson Blue Ridge Camping Hammock, you can remove the spreader bars. This decreases the sleeping comfort a bit, but it is still better than a lot of hammocks.   
Durability: Reviewed
When you are spending a lot of money on camping gear, you need it to be durable and reliable. There are thousands of user reviews about Lawson Blue Ridge Camping Hammock that categorically state that it is built for the long run and is an excellent value for money. All the materials used in the construction are durable, sturdy, and lightweight, that add value to your camping experiences. The hammock is made of high-quality polyester, the bug net is sewn into the hammock's edge, and the rainfly is designed to keep you dry after a long rainy night. While other campers with ordinary camping hammocks will be running here and there in the middle of the night to avoid rain, you will be sleeping without any tension of getting wet. The spreader bars keep the hammock in shape and balance to give you a great sleeping area. What else you need from a camping hammock?
While out in the wild, your hammock will get dragged, roughed up, and get wet. We say with full confidence that only Lawson Blue Ridge Camping Hammock can undergo some extreme wear and tear. It is no armored vehicle, but in this price range, it is merely the best camping hammock.
Versatility
Get ready to be mind-blown!
Lawson Blue Ridge Camping Hammock is the only hammock that can be used as a ground tent with little modifications. This is where it leads the other hammocks in versatility and design. All you need to do it to set up the hammock minus the suspension straps. Stick the four corners of the tent for tension. Your Lawson Blue Ridge Camping Hammock is now a durable, rough and tough ground tent. Bingo!      
Lawson Blue Ridge Camping Hammock for Winter Camping
With Lawson Blue Ridge Camping Hammock under-quilts work very well. The four pole attachments make the attaching of under-quilt easy. There are no air gaps as well because the fabric is pulled out.  
Lawson Blue Ridge Camping Hammock for Summer Camping
We discussed how Lawson Blue Ridge Camping Hammock could make your winter hammock camping better. Let us now discuss summer camping in it. Most people think that all they need during summer hammock camping is just a place with a dense shade under the trees. Yes, it is the first requirement but not the only requirement. You need a hammock that has excellent ventilation and breathability with the bug net on. It results in you in keeping you cool.
Pros and Cons
While summing up the review, it is essential to highlight the pros and cons of Lawson Blue Ridge Camping Hammock. They are given below.
Pros
   Total assembly time of ten minutes for beginners, this time can be reduced when you become accustomed to setting up your hammock

   A lot of interior space and livability

   Durable and can withstand wear and tear

   The best option in this price

   Can be used as a regular hammock by taking out the tent poles

   Versatile (can also be used as a tent)

   Includes attached bug net and a detachable rainfly
Cons
   The O-rings are made out of the ropes

   The hammock twists a little when not in use
Verdict
After reading the review, you must be in a position to finalize your decision about Lawson Blue Ridge Camping Hammock. Here is our opinion: it is an all in all solution to your hammock camping needs and a must-have item in your camping gear. A First-timer? No problem, Lawson Blue Ridge Camping Hammock has got you covered. If you are looking for a durable and reliable hammock camp, then it is your first choice. With total comfort, reliability, durability, and usefulness, you will be relieved of camping worries for a long time to come. Its sturdy suspension system and anchors will reduce the hurdle of finding big trees to camp in the open. Above all, it's waterproofing, and bug proofing will make your camping experience better than ever before. On the contrary, if you are an ultralight backpacker or a couple traveling together, Lawson Blue Ridge Camping Hammock is not your ideal hammock camping solution.
All the best for your next hammock camping trip!