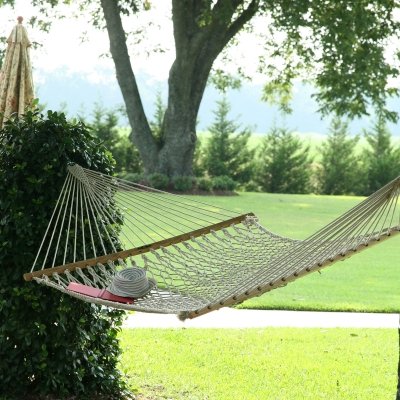 Product: Pawleys Island Hammock Swing
Best Place To Buy: Amazon.com
Dimensions: L = 2ft. 7in. W= 2ft.
Weight Capacity: 350lbs
Warranty: 1 year
Having a great place to lay back and unwind is always a great feeling. However, what if you don't want to lay around and instead are looking for something to just sit back and relax in?
Pawleys Island Hammock Swing will do just this — creating any area you have into the ultimate relaxation place. This could be somewhere inside your house, or if you want to have it hanging outside on your porch as you enjoy the fresh air.
What Is It?
(Click Image to Learn More)
Pawley Island hammock swing is a seat made for 1 person, made with a super-soft cushion to put both your body and mind at rest when you use it.
Created to be used both in and outdoors, you can enjoy this on a cold rainy day — or put it out on your balcony without having to worry about it getting ruined or damaged.
Made Of High-Quality Fabric
This hammock swing is made of a cutting edge fabric called DuraCord.
I have to admit after reading about this specific type of fabric, I was really impressed with all the features it carried. Especially the ones that made it great to use outdoors.
The first thing that caught my attention about DuraCord, was it's a material that does not absorb water, so when it gets wet it dries very fast. Not only does it dry fast, but it also keeps its shape making it look and feel great even when it rains.
Also see: Top 7 Best Rain Fly for Hammock Camping
On top of all that this fabric is also resistant to mildew. If you ever owned a hammock that you use outside, you then know that mildew is always one of those issues in the back of your mind after it gets wet.
What's also great about this fabric is even though it is very resilient to the outside elements, it's also very comfortable to sit in.
It's Super Soft And Looks Great
Amazingly enough, DuraCord has been designed to both have the softness of cotton, but also have to the same durability that acrylic carries.
This means that the colours will keep their bright and stunning features, even if you leave your hammock outside.
This particular hammock has a solid neutral back, a sand stripe pattern on the front, with oatmeal ropes from which it hangs.
I personally like this more neutral beige colour, as I could see it matching a brown porch or balcony making it a good accommodation for it.
What I liked
Made Of High-Quality Material
This hammock is made of a material called DuraCord which is both resilient to the elements outside, and at the same time is super soft like cotton.
Includes A Hanging Hook
Unlike like most hammocks that don't include a hanging accessory, this one comes with a hanging hook when you buy it.
Has A 1  Year Warranty
To help keep your mind at ease, this has a 1-year warranty for all materials and workmanship on it.
What I Didn't Like
Can Only Hold 1 Person
With it only have 1 seat, it would be nice if you could share this comfortable seat with a loved one or family member.
Who's This For?
Pawleys Island Hammock Swing is for anyone wanting a comfortable and durable seat to use either indoors or outdoors.
With it being built to gently swing back and forth, I could see this as a very relaxing hammock to help you feel at ease after a long day at work.
Final Thoughts
(Click Image to Learn More)
While I personally love traditional hammocks that you lay back and can fall asleep in — I am starting to really like this hammock swing after reviewing it.
As I said this can be used indoors — but I think this product would be exceptionally great out on a porch. This way you can swing gently back and forth enjoying a good afternoon breeze and taking it the scenery around you.
I'm not the only one who thinks this is a great hammock to have either. If you want to see what other people are saying about it, click the link below and find out for yourself.
What are your overall thoughts about this hammock swing? Do you already have a hammock swing, and if so do you enjoy it?
Also as always if you have any personal stories, questions, or concerns — leave a comment below and I'll be happy to help you out.