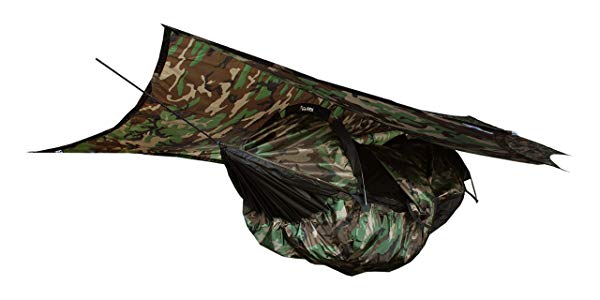 Product: Clark Hammock NX 270
Dimensions: Length = 9 feet Width = 4.2 feet
Weight Capacity: 300 lbs
When it comes to camping or hiking, knowing how to camp and what to bring is very important. However what is equally as important is knowing where you'll camp, that way you can be well prepared and provide yourself with the proper shelter.
If you're looking for something just to relax in during the summer, you may want to try looking for a simple and comfortable hammock — however, if you want a hammock that will keep you protected year-round, then the Clark Hammock NX 270 might just be what you need.
Similar to the Lawson Blue Ridge Hammock, the Clark Hammock NX 270 is a complete shelter system (but in my opinion even better) letting you use it during any season of the year.
What Is It?
(Click Image to Learn More)
The NX 270 is a four-season camping hammock that will keep you well protected whether you're in a cold climate with lots of snow — or deep in a humid forest surrounded by bugs.
Coming in 2 different colours "Mountain Green and Camo" it gives you the option to hide in the woods or have a more simple green hammock that looks great anywhere.
Now unlike most other hammocks, the NX 270 comes with many great features to keep you safe and comfortable from a harsh condition which includes a weather shield, bug net, rain fly tarp, and interior pockets to further help insulate and provide a safe place for your belongings.
The Different Features That Make This An Excellent 4 Season Hammock
While some hammocks say they can be used year-round, most of the time they lack an item or two like extra padding or a rain tarp — making you have to buy the accessories separately so you can truly use your hammock in different conditions.
With the Clark NX 270 however, you can truly use this in the rain, shine, or snow — thanks to how it's designed, the material it's made of, and the accessories that come along with it.
In my opinion, there are 4 main features (2 of them being quite unique) that not only makes this an excellent year-round hammock — but also helps it stand out as one of the top hammocks when you compare it to other ones on the market.
The Bug Net
The NX 270 full No-See-Um netting covers you from head to toe, letting not even the smallest of bugs from entering your hammock. If for whatever reason you don't want to use this net, it can also be unzipped all the way to your feet where you can then store it in a pocket out of your way.
Also with a zipper running from one side of the hammock to the other, this lets you easily get in and out of it super easily. Not to mention this also can come in handy during the night if you would like to look up at the stars.
The Rainfly Tarp
The rain tarp that comes with this hammocks is quite large, with a length of 10.6 feet and a width of 8 foot.
Being made of Sil-nylon, this tarp is highly waterproof and slippery — allowing the water to easily flow off of it when it rains.
To set the tarp up it has 8 points where you can stake it out, making your tarp very secure and open to help protect you when those storms do come.
The Weather Shield
This breathable water shield is one of the main features I really liked about the NX 270, and in my opinion, really makes it better than most other year-round hammocks on the market.
The water shield is made of breathable nylon that will zip over your bug net, transforming it more into a tent than a hammock. The shield is designed to protect you from strong winds, rain, snow, and also help keep you warm.
In fact, this shield works so well, that you don't have to worry about burrowing yourself into a sleeping bag when it starts to get cold outside. However, if you don't need or want to use it, just like the bug netting you can unzip it and store it in a pocket near your feet.
The Interior Pockets
The NX 270's pockets are the second feature that really makes this hammock both unique and extremely useful, and is something I have not found in any other hammock on the market at this time.
Coming with 6 extremely large pockets, they will serve as a way to store your gear and clothes without ever leaving the comfort of your hammock — and also help insult your hammock during your cold camping trips.
I really like the fact that this eliminates the use of you having to use a sleeping bag to keep yourself warm, as your clothes and belongings stuffed into the pockets will help block any cold air from entering your hammock.
Setting It Up
Setting up the Clark Hammock NX 270 is Very similar to setting up the  Lawson blue ridge hammock, with the main difference being the spreader bars which you won't have to worry with here.
With easy to follow instructions on how to hang your hammock, you'll have your NX 270 up in no time at all.
Now to hang your hammock up, you just need to follow these 3 simple steps:
Step 1:
Roll out your hammock from the pouch it comes in
Step 2:
Using the ropes that come with it or a suspension system if you already have one, tie one end to the tree then the other to the hammock itself.
Repeat this on the other side so your hammock is hung up on both ends.
Step 3:
Assemble the arch poles together by simply snapping them together, then insert them through each sleeve section (one at the head of the hammock and the other at the foot of the hammock).
And there you have it, a very comfortable and warm hammock ready to use any time of the year you want.
Setting Up The Rain Fly
Once you have your hammock all set up if you want you can then set up the rain fly to keep you from getting wet if it happens to be raining outside. Or check out Rainfly for hammock camping.
To set it up, you just tie both ends to the trees where your hammock is already at, then with the 6 other points, you'll simply stakeout on the ground to keep it nice and tight. Just remember to set up the widest part over your head and the narrower part at your feet.
What I Liked
Great 4 season hammock that you can completely enclose yourself in
With a No-See-Um netting covering you from head to toe, followed by a weather shield that can zip over the net itself, this gives you plenty of protection no matter what time of the year it is.
Pockets serve as excellent storage and insulation
The pockets which are all located inside the hammock, are a nice addition that will allow you to store all your belongings and gear — while at the same time act as an insulator from the cold outside.
Very comfortable
Being able to stay completely dry and warm inside the hammock even if it's snowing or raining outside, many people have reported how comfortable the hammock was and that they had a great sleep in it.
Easy to set up and takedown
After you find two pair of trees you want to tie your hammock to, all you have to do is open your hammock up, tie it to the trees, then insert your arch poles into both ends and you're done!
What I Didn't Like
Rather large even when packed down into a sac
When the hammock is stuffed into the sac it is around 13 inches long and 8 inches wide weighing in around 2 lbs. While you can still carry this from one place to another without any trouble — other hammocks packed down have been known to be much lighter and smaller.
You'll still need extra insulation for winter trips
While the pockets do a great job in keeping you warm when it's cold outside, if temperatures drop below freezing you'll want to bring an underquilt and some more insulation to make sure you stay warm.
Who's This For?
The NX 270 is mainly for serious hikers and campers that want a hammock they can use year-round (especially in the wintertime.)
Final Thoughts
Coming with amazing features like built-in pockets for insulation/storage, a bug net to keep critters off of you, and a weather shield to further protect you from elements such as wind rain and snow — the Clark Hammock NX 270 is an excellent 4 season camper I think you will really enjoy.
Also while this may not be the smallest or lightest hammock once compacted down, it still is a great hammock to use especially if you don't want to bring a bulky tent, which is my opinion would be less effective anyway. You can sleep in it sideways, on your back, and on your stomach with no problem at all.
So what do you think about the NX 270? Are you ready to go buy one yet? Do you have any questions or concerns about this hammock that you'd like me to answer?
Let me know in the comments below, and I'll be happy to help you out. 🙂