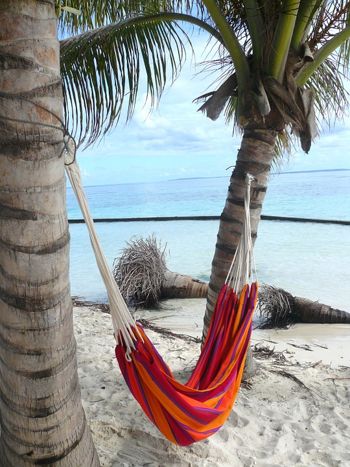 The two best ways to camp in an open environment are hammock camping or tent camping. While both of them have their specific characteristics, hammock camping outnumbers tent camping when it comes it being lightweight, comfort, and portability.
Hammock camping, as compared to tent camping, is a bit technical because you have to set up the hammock manually as compared to some automatic setup tents. For beginners, it can be quite a daunting task. You will need complete knowledge of how to tie a hammock, critically select the trees and then you will need to have full hammock camping gear. Without proper and high-quality equipment, hammock camping will not be fun, and it will be dangerous as well.
If you are a beginner or an expert hammock camper, you need to know about your tools for proper hammock camping. In this article, we will solve this problem for you and discuss a complete hammock gear list with you, so that you can improve and enjoy your camping experience with hammocks.
Let's get down to business!
Complete Hammock Camping Gear List
We don't want you to go out camping with inadequate or improper camping tools. Just imagine, you miss out something important and then either your whole program is destroyed, or you have to purchase those tools from nearby areas. Those stores sell expensive items because they know at that point in time, you are helpless, and you have to buy camping equipment from them. To avoid such adverse circumstances, remember to make a check-list for camping gear. You can use our list for reference and to ensure that you leave fully prepared and ready to tackle all camping challenges.
Another thing to consider while hammock camping is the selection of trees and the area where you are going to camp. You should not select the trees which are old, dead, or weak. Your camping spot should be free from the reach of any wild animals and should not be at the edge of a cliff or near a pit.    
It is pertinent to highlight here that the camping gear list is going to be a long one, so you must be careful while packing up and make sure that you have everything ready to use and in perfect condition.
Let's Hammock Camp!
Fundamental Gear
Hammock and a suspension system are the necessary and essential gear items when it comes to hammock camping. Other items included in the gear list are icing on the top and are needed according to specific situations. We will discuss these items later on.    
Hammock – Quite obviously, the first thing you are going to need for hammock camping is a hammock. The type of hammock you are going to use at a particular trip depends on the kind of trip you are planning. If you are going backpacking and have to trek a lot, you must get a hammock which is lightweight and easy to carry in your backpack. You do not want to add extra weight to slow you down and drain your energies very early. Hammocks are specifically available for backpacking purposes. Camping hammocks are lightweight, easy to fold, portable as compared to heavyweight hammocks found in your garden or alongside pools.
Your hammock should also be durable, can withstand rain and thunderstorms. For this purpose, a hammock made from a mix of polyester and cotton is a great option. It offers high weight capacity, durability and can withstand extreme weather conditions. It is water-repellent and does not get wet too early as compared to simple cotton hammocks.
The anchor points of your hammock should be strong and sturdy enough to carry your weight and hold the ropes steadfast. Your hammock should be compatible with a wide variety of accessories.
Suspension System (Support Straps) – The second most crucial thing when it comes to hammock camping is the suspension system or the support straps. The rule is simple: the stronger the support straps, the better the camping experience. These straps are used to support the hammocks with trees.
Also check: ENO Atlas Hammock Suspension System Review
Most of the hammocks come with a suspension system. Sometimes, this suspension system is weak and cannot handle more weight. You need to make sure that you have excellent and robust suspension ropes. Always select support straps which have a weight capacity more than your weight. This comes in handy while you are adjusting yourself while sleeping or resting in your hammock and weight distribution is disturbed on support straps. Each strap can then handle some extra weight individually.
You can also use ropes in place of suspension straps. Make sure that they are strong enough to carry your weight. Support straps or ropes should be lightweight, easy to fold and store, durable, and have additional slings and buckles to tie your hammock to the trees.
Other Gear Items
Following are among the gear items that are not necessarily needed for hammock camping but can enhance your camping experience overall depending upon the camping conditions.
Rainfly – A rainfly is necessary equipment when it comes to overnight hammock camping. The primary purpose of rainfly is to protect your from rainwater and keep you dry. Rainfly is not needed when you are setting up a hammock in a garden, on a beach or adjacent to your pool. The need for a rainfly is also dependent on the weather condition and in which part of the country you are going camping.  
You should select durable rainfly, covers the entire area of your hammock, and is water repellent. It should be able to tolerate wear and tear along its use. A good quality rainfly also offers zipped-pockets and storage compartments to keep your stuff secure during camping.
Without a rainfly, you are at the risk of getting wet and may end up catching a fever. Your hammock can also get wet, and it will end up disturbing your trip schedule.
Bug Net – When it comes to protection from exterior elements like insects, bugs, and flies, a bug net is the best solution. It is designed to give all-round protection from mosquitoes and other creepy insects. A bug net is also significant for health as mosquitoes and bugs can bite you overnight, and you may end up being sick. The best bug nut offers 360-degree protection by covering the entire hammock. It provides you with plenty of space and protects you from adverse weather up to some extent as well. It should integrate with your hammock without leaving any vacant space, hence not allowing any mosquitoes or bugs to enter your sleeping area.
Under Quilt – This item is also weather dependent. If you are going camping in the winter season, you will need an additional layer of protection from the chilly winds that blow in mountains and forests. Under quilt is the perfect solution for this problem. It will keep you warm and cosy during the night. This will result in you getting a night of better sleep, and waking up fresh, providing you with more zeal and vigour for the upcoming day.
Top Quilt – Another gear which comes in handy for winter hammock camping is the tip quilt. When you are camping in icy weather, you will need a quilt to cover your body from the top as well. A good quality top quilt will offer you total insulation from the cold and also protection from mosquitoes as well.
Under quilt and top quilt, together make winter hammock camping easy to navigate.
Sleeping Bag – One alternative to having both under-quilt and the top quilt is a sleeping bag. A sleeping bag allows you to get inside it and close the zips on the sides of it. It is relatively warm (less than under quilt and top quilt) and comfortable to carry for backpackers. The best sleeping bags offer protection from cold, pockets to keep your important stuff and are lightweight.    
Sleeping Pad – A sleeping pad is used to make your hammock soft and comfortable to sleep on. This accessory is just meant to increase your comfort. It is only useful if you are travelling by car and want to hammock camp during the night instead of staying at a motel.
Pillow – Sleeping without a pillow exhausts your neck and shoulders. Why would you want to do something like this while on a camping tour? You need all your body strength to keep you going. We recommend that you take a compressible pillow along with other gear. The compressible pillow is lightweight and easy to store in your backpack as well.  
Carabiners – Carabiners are used to hold the suspension straps and loops on the hammock together. They are very important equipment when it comes to tying your hammock with the trees. Most hammocks come with the required number of carabiners. However, it is better to keep a couple of additional carabiners to avoid any inconvenience. You should also check the sturdiness of carabiners before leaving for camping.
Paracord – Paracord comes in handy while camping. You may need it in case your suspension straps go out of order or get weakened by weight. An excellent paracord should be able to carry your body weight. Remember to wear gloves or cover your hands with some cloth before operating with paracord.
Guylines – Guylines are useful for setting up tarps and shelters. They often come in handy while you are out on hammock camping.
Ridgeline – A ridgeline is a piece of rope that is attached at the top of your hammock. It allows you to get in and out of your hammock quickly and more freely. It also allows you to hang clothes to dry while you are resting in your hammock. These clothes can also act as a shade against sunlight.
Pockets – A few of the hammocks come with pockets. Such features usually make the hammock's price go up and out of your budget. You can buy cheap additional pockets made of cloth pieces to attach with your hammock with the help of ropes. The pouches come in handy while keeping your stuff like wallet, cell phone, or your favourite snacks.
Torch – A torch is not compulsory but a must-have item on your gear list for hammock camping. You can either use a simple flashlight or get a torch lantern which acts as a torch and a lamp. We recommend that you get a torch lantern as you can keep it down and work in its light. It can help you set up your hammock during dark as well.
Masking Tape – A masking tape is also an essential item to keep in your backpack while leaving for hammock camping. You can use this tape to fix broken things and tighten the hammock straps.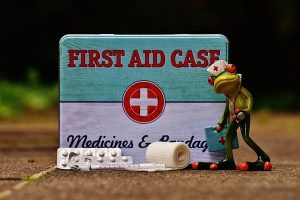 First Aid Kit – Remember to keep a first aid kit while leaving for hammock camping. In the wild, you can be injured easily, and a basic first aid kit will come very useful. The trick is to carry the most critical items in the first aid kit and get a small box that is easy to store.  
Hammock Stands – Hammock stands are not that necessary when it comes to hammock camping. If you are travelling by car or SUV with a lot of trunk space, you can carry these stands with you. These stands cut short the need to find natural anchor points like trees for your hammock. You can set up your hammock at any place you want. Hammock stands are foldable and can be stored easily.
Satellite Phone – Depending upon your area of travel and duration of the journey, you may need a satellite phone to stay in touch with other people. A satellite phone stays charged for more extended periods and can even last for weeks if used carefully. This is a luxury item and is only suitable for people who are travelling to rocky landscapes with no cell phone coverage.
Dagger – If you are travelling to an area where wild animals can attack you, or you have to hunt and eat, carrying a blade is very important. Make sure to check with the local laws for a carry permit, age, and other regulations related to dagger keeping.
Hammock Camping in Winters
Some people are of the view that hammock camping fails in winter as compared to tent camping. This is the wrong viewpoint. Hammock camping in the winter season is manageable, and you can stay perfectly warm and still enjoy the cold season in your hammock. Following items (already explained above) are compulsory when it comes to hammock camping in chilly weathers.
Our Top Pick: Clark Hammock NX 270
Under quilt

Top quilt

Sleeping bag or a sleeping pad

Rainfly

Pillow

Hot water bottle (can be used for preheating sleeping bag and quilts.

Warm hat

Gloves

Clothes to keep you warm while sleeping

Socks
Check-list for Gear Items
We have developed a checklist which you can use to make sure that you have all the essential items for a safe experience of hammock camping. You can use the following check-list and ensure that you have all the vital things.
Keep in mind that without a hammock and suspension system, there is no hammock camping as they are the bread and butter of hammock camping.
Hammock Camping Gear Checklist
Item Name
Priority
Check
Rainfly
High
Bug Net
High
Under Quilt
High (Winter Season)
Top Quilt
High (Winter Season)
Sleeping Bag
High (Winter Season)
Sleeping Pad
Relative
Pillow
High
Carabiners
Medium
Paracord
Medium
Guylines
Medium
Ridgeline
Medium
Pockets
Medium
Torch
High
Masking Tape
High
First Aid Kit
High
Hammock Stands
Low
Satellite Phone
High(If no coverage of Cellular Networks)
Dagger
Relative
Items with a high priority are a must have after your hammock and suspension system.
Items with a medium priority can be ignored in case your current gear is in good quality and durable. However, it is better to keep spare carabiners, paracord, guylines, and ridgeline.
Items with relative and low priority are not necessary. Their use depends on specific conditions which have been explained in their respective sections.    
Conclusion
We are sure that your hammock camping experience from now onwards is going to get a lot better. You must have the right gear before leaving for hammock camping trips. Only then you can enjoy your hammock experience without any setbacks. For conformity, you can use our check-list and tick mark all the things before leaving for your next trip.