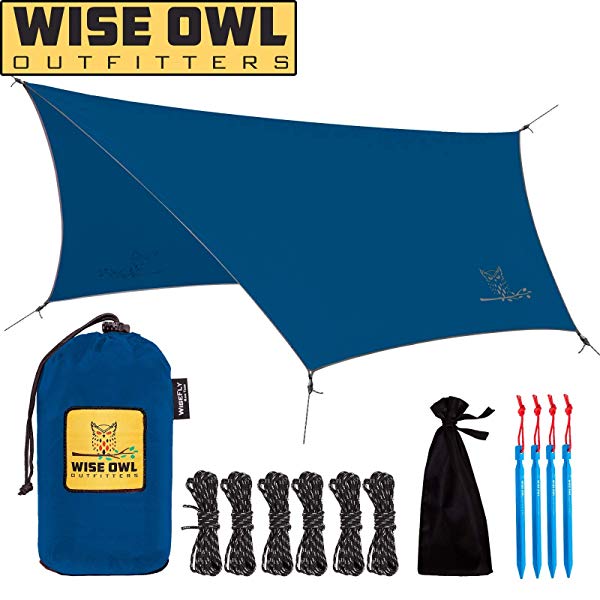 A rainfly or tarp is an essential accessory when it comes hammock camping. Backpackers travel to open places like mountains, forests, and deserts where the weather is uncertain, and it can rain at any given point if time. To avoid getting wet, you need a rainfly that will cover the entire area of your hammock and does not leave any space. There should be minimum chances of rainwater getting inside your hammock and destroy your camping experience.
As you know, there are a lot of hammock options available for you to buy; there are a lot of rainfly options as well. This can be confusing when you have to select from hundreds of options. But you do not need to worry, as you are at the right place to buy a rainfly. In this article, we will solve this confusion for you. This review will cover a buying guide to facilitate your purchase and some of the best tarps available in the market.
Let's make your hammock camping waterproof!
Buying Guide for Rain Fly
(Click Image to Learn More)
A buying guide helps you in confirming what you need in a rainfly. By going through every feature and related aspect of a rainfly, you will be able to consolidate your thoughts about buying a rainfly.   
Conditions for Hammock Camping – The first thing to consider while buying a rainfly is to know the weather conditions of the area in which you are going for hammock camping. If you are going to camp in extreme weather condition with frequent rains, you will need a rainfly that will provide some extra protection than other tarps. Such tarps offer additional coverage and supplementary material which acts as doors and help increase protection from the rain. Such tarps also help in keeping you warm by trapping an extra amount of air inside the hammock. These hammocks are costly and even heavy to carry around in your backpack. If you are travelling by car or can manage some extra weight, such tarps are always a good option. They are also known as winter tarps in the common language. Winter tarps are usually large.   
In moderate conditions, where there are few or zero chances of rain, you can use any tarp for coverage, ventilation, and protection from sunlight or rain. Selecting a tarp for such a situation is not that difficult.
Styles of Hammock Rainfly – Another primary feature to consider while buying a rainfly is the style. Tarps usually come in four different styles, and they are as follows.
Rectangular: It is set up parallel to your hammock. With the help of four anchor points, you set up a ridgeline above the hammock and then the trap is draped lengthwise on the ridgeline. Rectangular tarps provide excellent coverage, and because of their big size, the amount of air crossed will be less.
Hexagonal: Almost similar to rectangular ones, these tarps are a bit lighter. They require less material to be constructed because the corners are designed inwards. This design allows more air to cross in your hammock and keeps you fresh. They are expensive than rectangular tarps.
Catenary: This design is an extension of hexagonal tarp and has specially designed curved cuts to increase the air-flow and reduce the material used. This results in even more weight reduction and allowing the backpackers to carry it easily.
Diamond/Square: They are easy to set up and pitch as they only need two anchor points. They are very lightweight and allow ample air-flow across the hammock. The biggest drawback of using this rainfly is that it provides the least amount of coverage area.
Size – When it comes to selecting the size of the rainfly, you need to look at the size without considering the style of the rainfly. A rainfly must be able to cover your hammock properly and still provide spaces for ventilation. The tarp must extend at least 5 inches over each end of your hammock. Generally, tarps with a size of 8 x 10 feet, turned at an angle of 40 degrees will give you a ridgeline of 13 feet. This measurement provides enough space to adjust any hammock. A hammock also sags for 1-2 feet when it is hung, so this will give you enough space.
Setup and Packing-up – Setting up and closing down you rainfly must be easy and must not consume a lot of time. Find an option that is easy to assemble and takedown. Tarps come in between 2-6 anchor points. The number of anchor points increases the stability and security of your rainfly. We suggest that you look for a model that comes with pre-attached rings to hang the rainfly so you can save extra time on tying knots to hang it.
Weight – One thing to consider while selecting your rainfly is the weight it is adding to your overall trunk weight. Tarps that provide more protection are big and bulky as well. If you are going to spend a lot of nights at one particular campsite, a heavy rainfly with increased security is a good option for you. If your trip is loaded with trekking and mountaineering, you must consider a rainfly under 2 kilograms as it will keep you much lighter.
Material – Tarps come in a lot of different materials. One feature, common to all of them is the ability to repel water. Most common materials used for making tarps are as follows.
Coated Polyester is cheap, and hence the tarps made out of it are also down in the price range. It is noisy and even tricky to be patched in case of a hole.
Silnylon is a mixture of silicone and nylon. Tarps made from it are lightweight and extremely waterproof. It is not very durable and can get punctured easily.
Ripstop nylon tarps are reinforced for added durability. They are highly resistant to wear and tear and are great for rough use. Repairing such tarps is easy with fabric tape or a puncture patch.
Some tarps come with an additional waterproofing coating made from polyurethane or silicon. They do add a little extra weight to your rainfly but also give you enhanced protection from rainwater.
Versatility – When you are spending some bucks on a tarp, why not spend it in such a way that it increases your functionality. You may want to go on a regular camping trip down the lane. Select a rainfly that offers protection from rainwater in the regular camp set up as well.
| | | | |
| --- | --- | --- | --- |
| FEATURES | | | |
| BRANDS | Hennessy Hammock Hex Rainfly/Rain Tarp | ENO – Eagles Nest Outfitters ProFly Rain Tarp | Foxelli Rain Tarp |
| Size | 12 x 10 Feet | 10.5 x 6.5 Feet | 12 x 9 Feet |
| Weight | 765 Grams | 630 Grams | 520 Grams |
| Shape | Hexagonal | Rectangular | Diamond/Square |
| Material | Coated Polyester | Ripstop Nylon | Ripstop Nylon |
The 7 Best Rainfly for Hammock Camping
We have done the hard work for you by critically selecting the best seven tarps that you can use with your hammocks. Following list gives you plenty of options to choose from.
1. Hennessy Hammock Hex Rainfly/Rain Tarp
(Click Image to Learn More)
At the top of our list is a rainfly from Hennessy, this versatile rainfly is equally excellent for hammock camping and tent camping. It will give you value for money by increasing usability.
Tie it to the trees or stake it to the ground. It comes in a hexagonal shape and measures around 12 feet by 10 feet. This size allows it to cover almost all the hammock models available in the market.
The Hennessy hammock rainfly system has a unique, yet awesome system for tying it off.  The knots are really cool, but you have to watch this video to see what I mean…
It is set up using 6 anchor points and provides generous protection from wind, rain, and sunshine. Its angle can be adjusted to provide a large covered area for cooking, sitting and relaxing purposes or you can stake it down to reach near the ground on both sides of the hammock.
The bark-color provides a natural look to your setup. The 70D polyurethane-coated Polyester goes a step further to provide outstanding protection from rainwater.
One feature which takes this rainfly above the others is its weight to protection ratio, at just 765 grams, it does not add up any extra burden on your backpack.
You go lightweight and confident about the quality of your rainfly. It comes with a storage pack for cords. The cords, however, get roughed out after being used for some time. The tarp is easy to set up and take down.  
2. ENO – Eagles Nest Outfitters ProFly Rain Tarp
ENO is a famous name when it comes to camping products. They have been in business for quite a while and are producing quality products for all your needs.
The ProFly tarp is made from polyurethane-treated 210D Ripstop nylon which offers long-lasting durability and total protection from rain thunderstorms.
With this rainfly, you will feel dry and crisp after a long night of raining. The six-point anchor connection ensures that your tarp will stay strong in the face of a cruel thunderstorm and thus keeping all your gear safe.
Weighing around 630 grams and coming with a storage sack, it is easy to carry around for ultra-light backpackers. Measured at 10.5 feet by 6.5 feet, it will cover all the standard sized camping hammocks easily.
Since it is rectangular; a small measurement is not to be worried about if you are buying this rainfly. Rectangular tarps have more capacity as compared to hexagonal tarps.  
One drawback of getting this rainfly is that it does not come with stakes. You will have to purchase stakes by yourself. Other than this, this tarp is perfect for all your camping needs.
3. Foxelli Rain Tarp
(Click Image to Learn More)
If you are looking for an excellent product with an economical price, Foxelli Rain Tarp is the perfect solution for you. It is made from high-quality ripstop nylon which offers total protection from rain, snow, and sunlight. It filters out the UV rays in the sunlight, so you stay safe during your camping trips. The diamond-shaped rainfly covers your hammock camping area nicely with 12 feet by 9 feet measurement. The 12 feet ridgeline can support all the hammocks and tents sufficiently. The tarp weighs just 520 grams without the other equipment, and the other equipment is also lightweight, durable and only adds a couple of hundred grams to the total weight. Setting it up is easy and hassle-free. All the equipment you need is included in the package, and you do not have to go anywhere else looking for anything. The tent has stitched-in metal loops for tying the knots. It saves your time as you do not have to tie additional knots. You will also find 12-feet long nylon guylines, 2 x 7 inches aluminum alloy stakes and a packing bag. All these features accommodate an easy setting and dismantling for this rainfly.     
The company is offering 30-days money-back guarantee and a 3-year warranty for defects of any kind. The only problem we found with this rainfly is that it is not as durable as the two listed above. It does not come with any instructions to set up.
4. Qnlly Ultra Light Rain Fly Tarp for Hammock Camping
This hammock is perfect for people who are looking to get coverage for their extra-long hammocks. In the diagonal position, it can give you a maximum of 16 feet coverage and 10-foot coverage in the ridgeline position. It has a double weatherproofing coating at 2000 PU water repellent and UV repellent as well. It has been stitched using cross weaving, which makes it resistant to wear and tear. The ripstop nylon provides for proper protection against the rainwater. Within the package, you will find everything you need to have before going for hammock camping. It weighs around 710 grams and does not add extra weight to your backpack. It is a big rainfly and measure at approximately 13 by 10 feet. The rectangular design even makes more space underneath this tarp, and you can adjust all your camping accessories easily.   
Some users claim that the ridgeline is not as long as advertised but still works well for extra big hammocks. The corners are also pointy, so you need to take extra care while folding it up as you may end up injuring your hands or ripping the storage sack.  
5. Wise Owl Outfitters Hammock Rain Fly
(Click Image to Learn More)
This hammock camping is a versatile option for all your hammock camping needs. It is made from ripstop nylon and measures 11 by 9 feet. The nylon is 210T and is reinforced to provide more protection from the rain. You can adjust all standard size hammocks in this rainfly. The nylon is durable, lightweight and provides very good protection from rain and sunlight. One striking feature of this hammock is the packing size it offers. It packs down to an amazingly small size of 5 x 9 inches. It can easily be adjusted in your standard size backpack. In the package, you will find all the necessary items to set up your rainfly. Tent stakes and guylines (already attached) allow you to save time while assembling the tarp. This feature enables the tarp to be set up in just 3 minutes. It weighs around 740 grams, so you do not need to worry extra baggage on your trip.
Please keep in mind that if you are buying this rainfly, the guylines are not reflective and the stakes are short.
6. Duty Strong Rainfly Tarp for Hammock Camping
Comes with 4 high quality aluminum tent stakes & 6 guy tie lines that are 10 feet each that are pre-attached, which in results gives you plenty of room to roam around underneath. Easy set up and take down. The tarp has a size of 10 x 10 feet, and you can use it to cover a lot of hammock models. The rainfly weighs at 850 grams, and it is slightly higher than the models listed above. It is ideal for multiple uses, and you can use it as a shelter for cooking and keeping your equipment safe.
It comes with a one-year warranty. One thing you need to consider while buying this rainfly is that it comes in only green color.
7. The Outdoors Way Hammock Tarp
(Click Image to Learn More)
With a 12 feet ridgeline, this rainfly provides you with enough space to cover all the hammock models. It is made from 210D ripstop nylon which is sturdy and extremely water-resistant. It is lightweight, and you will not have to carry any additional weight in your backpack. It comes with all the necessary equipment to set up your rainfly. It uses four anchor points for connection and hence provides enough support against brisk winds and thunderstorms. There are 6 paracords in the package and a stuff sack to facilitate carrying your rainfly. It provides a coverage area of 11.8 by 7.2 feet.
Please keep in mind that the width of this tarp is small and you might have a problem saving your belongings under shelter. It weighs around 750 grams, which is average as compared to other models available in the market.
FAQ
Frequently asked question help you in answering any queries in your mind related to functionality and usability of your rainfly.
Q: How can I hang my hammock rainfly?
A: There is no rocket science behind hanging your rainfly. First of all, you need to set up a ridgeline between your anchor points and then drape your rainfly over it. If your rainfly has hooks for ropes, well and good. Otherwise, you can tie your rainfly with a taut-line hitch or a bowline hitch.
Q: What are the uses of a rainfly other than keeping the rainwater away?      
A: A rainfly can be used to keep you warm, keeps the bugs and insects out, and provides you with shade. It also prevents snow and cold away from your hammock.
Q: Should I buy a hammock with a rainfly or get a separate rainfly?
A: It all depends on your choice. Hammocks that come with a pre-attached rainfly are a bit heavier and are also on a high side of the price range.
Q: Can I use my old rainfly instead of getting a new one?
A: The answer to this question depends on the condition of the rainfly you already have. If it needs to be patched at a lot of places and is out of shape, then it is better to keep it lying in our garage. It can be used for some other domestic purposes. Get a new one before a camping trip so that you enjoy your trip to the fullest without any problems.   
Verdict
We are confident that by now you have almost made your decision about buying a rainfly for hammock camping. The top 3 in our list are simply the best.