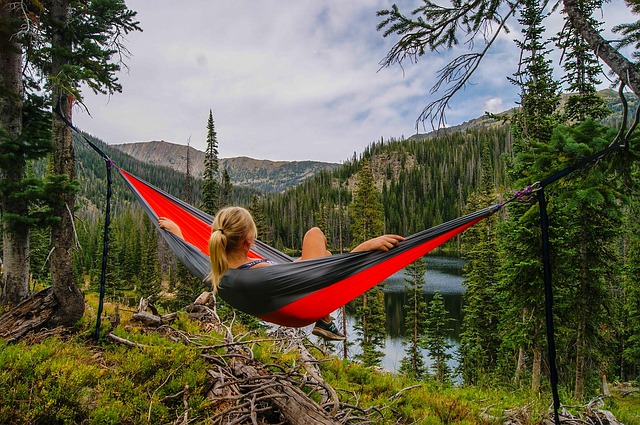 A hammock is used for swinging, sleeping and resting purposes. Either you are going on a beach trip, hiking, and a picnic to a nearby park or visiting a lake, you will need a hammock to relax. There are a lot of hammocks available in the market currently. Hammocks are made from different materials like cotton, polyester, nylon or ropes. Depending upon the material from which hammock is made; it has different uses and is best for specific visits or seasons.
In this article, we will discuss the cotton and polyester hammocks and compare them with each other. We will also deliberate on which one is better as compared to the other. This article will also discuss poly-cotton hammocks and some general instructions to take better care of your hammocks. This article will help you make a better decision when it comes to choosing between polyester or cotton hammocks.
Also see: Top 7 Best Rain Fly for Hammock Camping
Let's make your outings better by knowing the hammocks in a better way!
Cotton vs. Polyester Hammocks
The debate of cotton vs. polyester hammocks has gained popularity in recent years. In order to decide which is better, you should know all the details about them and what each one of them is offering and what are the problems associated with them. The following discussion will analyze all the features of cotton and polyester hammocks.
Cotton Hammocks
Cotton Hammocks are the most traditional and also the most widely used hammocks at the present. We all know the characteristics of cotton as it is the most common material we use for clothing purposes. Cotton is a soft material which makes hammock-bedding comfortable and cozy to sleep in, rest and read your favorite book. It is a perfect solution for all your hammock needs.
Benefits of Cotton Hammocks
Following are the benefits of using hammocks made from cotton. Go through them, so you can know your hammocks in a better way.
Lightweight – Cotton hammocks are lightweight. They are easy to carry and store in the back of your car or while backpacking. When you carry them without the spreader robes, it becomes fairly light and is perfect for backpacking as well.
Comfort – Hammocks made from cotton fibers are comfortable and you would want to stay in them for a little longer. Cotton is soft and smooth. Cotton fibers are less abrasive, which is why they do not interact with your skin.
Coolness – When it comes to staying cool and absorbing less heat from the surroundings, cotton hammocks are the best. When you are going out to the beach or a picnic on a hot day, you will enjoy your time in a summer hammock.
Washing – Cotton hammocks are easy to wash and dry. This increases its user-friendliness as you do not need extra time to wash and dry it before leaving for a trip.
Breathable – Cotton Hammocks are breathable and can easily diffuse away the excessive heat from your body and surroundings. Thus keeping you cool.
Flexible – Cotton hammocks are flexible and stretch according to your body shape. You will feel comfortable while relaxing on them.
Easy to Die – Cotton fabric is easy to die. It can catch all the colors. Hence, you can get your hammock died in your favorite color.
Biodegradable – Cotton is biodegradable as compared to polyester. If you use a cotton hammock, you will not have to worry about its impacts on the environment.
Disadvantages of Cotton Hammocks
Despite all the mouth-watering advantages of cotton hammocks, it has some disadvantages as well. They are listed below.
Fragile – Cotton hammocks are fragile. They can easily get damaged by pointy and sharp things. Wear and tear of cotton hammocks is also high as compared to other hammocks.
High Absorption – Cotton is very absorbent cloth. It will absorb all the moisture from your body and can easily get wet in case of rain. It does not have any ability to allow water to roll over it and just simply absorbs all the liquids which may reach its surface.
Dirt – Cotton hammocks also catch dirt very easily. Though they are easy to wash and clean, they have no dirt repelling mechanism. Keeping them clean without washing is a very challenging task.
Poor Weather Resistance – Cotton Hammocks have poor weather resistance. In case of rain or a dust storm, you will have to bring them indoor on urgent basis. Otherwise, they will catch all the dirt and make a mess out of them.
Less-Weight Capacity – Cotton hammocks have less capacity to carry body weight. If you weigh more than 100 pounds, you need to think twice before getting in a cotton hammock. For body weight under 100 pounds, cotton hammock is fine. 
Polyester Hammocks
Polyester hammocks are also getting famous since a few years. The real analysis of cotton vs. polyester comes out when you know the pros and cons of each of them. After listing the advantages and disadvantages of cotton hammocks, we will now discuss the pros and cons of polyester hammocks.
Pros of Polyester Hammocks
Following are the pros of using polyester hammocks.
Durable – Polyester hammocks are long lasting than cotton hammocks. Since polyester is inorganic, it is resistant and can withstand comparatively more wear and tear as compared to cotton hammocks. Polyester is made from plastic and plastic easily outweighs cotton when it comes to durability.
Durable Colors – It is difficult to dye polyester but once it is colored properly, it can withstand fading better than cotton. You will enjoy your favorite color every time you hang your hammock. High quality polyester hammocks can retain their color up to 5 years.
Less Absorbency – Polyester hammocks do not absorb liquids and water. Even if your polyester hammock is left in rain and you spill your favorite drink while relaxing on it, the liquid will just roll over it.
Quick Drying – Polyester hammocks dry quickly than cotton hammocks after washing. This makes washing them easy and less time-consuming.
Few Creases – Polyester hammocks show fewer creases than cotton hammocks. This means that they will give you a neat and clean look every time you use them. You will not have to straighten them out before using.
Healthy – Polyester hammocks are healthier as they do not catch any molds and bacteria.
Weight-Carrying Capacity – Polyester hammocks have more capacity to carry weight as compared to cotton hammocks. They can easily carry weights more than 100 pounds.
Cons of Polyester Hammocks
Polyester hammocks also have some cons. They are explained below.
Low Breathability – Unlike cotton, polyester hammocks do not have high breath-ability. This is evident from the fact that if you wear a polyester short in summer season; you will feel sweaty and clingy all the time.
Non-biodegradable – Polyester is made from plastic and is non-biodegradable. It will take its toll on the environment as well.
Non-Flexible – Polyester hammocks are non-flexible. They will not flex according to the shape of your body. This makes them slightly uncomfortable as compared to cotton hammocks.
Weight – Hammocks made from polyester have more weight as compared to cotton hammocks, this makes them difficult to store and carry around.
Poly-Cotton Hammocks
Industrial developments have enabled us to achieve the best of both cotton and polyesters. The best qualities of both have been infused to make these hammocks better than the individual fabric. A hammock made from a mixture of both polyester and cotton has the following qualities.
Zero Shrinkage – It offers zero shrinkage like polyester and still retains the coolness and comfort of cotton and durability of polyester.
Economical – Poly-cotton hammocks are affordable as compared to either polyester and cotton hammocks.
Shape and Color – It has the characteristic of getting died from cotton and retaining color and shape of polyester.
Healthy and Breathable – It has the ability to be healthy like polyester hammocks and breathability of cotton hammocks.
All Weather Hammocks – The combination of all polyester and cotton gives the poly-cotton hammock an all-weather touch which makes it the best option to be used around the year.
General Care Instructions
There are some general care instructions for your hammocks despite you choose a cotton or polyester hammock or the combination of both. These tips are explained below.
Sine your hammock can be torn by anything sharp and pointy, you should avoid wearing anything like that. Belts, zippers, knuckles, watches, jewelry or anything else that can cause damage to your hammock must be avoided.
You should not smoke while you are on your hammock. Ash from the cigarette can create holes at the surface of the hammock. A burning match or a lighter can set the entire hammock to fire. This is extremely dangerous for you and people nearby you as well.
If you pull a thread from the surface of your hammock, do not pull it completely. Just cut it from the nearest point and shake your hammock so that it adjusts and does not come out again.
Make sure that the suspension string holes are in good shape and take special care of them.
Whenever you are storing your hammock, fold it neatly and equally and then store away in a water-repellent bag away from the reach of insects. Do not just jumble up the hammock and throw it away. It will literally destroy your hammock.
Your storing space should be free from all types of moisture and dirt.
If your hammock gets wet, make sure you dry it properly before keeping it away.
Remember to follow the washing instructions on the brochure or bag of your hammock. Each type of hammock needs different water temperatures to be washed safely.
Cotton vs. Polyester Hammocks: Which one is better?
Choosing the hammock really depends on your personal preferences. We have listed all the positive and negative aspects of both (cotton and polyester hammocks) and even listed a better option (poly-cotton hammocks) then both of them. If you want to use your hammock in summer season than cotton hammocks definitely take the lead and must be your first preference considering all its advantages. For the winter season, polyester hammocks are the best. For all season use, poly-cotton hammocks are great options. We hope that all the concerns in your mind have been comprehensively answered now.