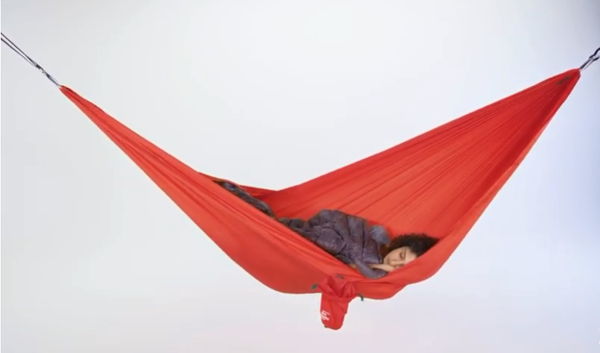 If you are going for hammock camping with your partner, you might want to get a hammock that is good for two people. KAMMOK Roo Double Camping Hammock has got you covered. In this article, we will review this hammock. This review is aimed at making sure that you spend your money wisely and you get the best value for your money. 
Technical Details
Total Packed Weight

: 18 oz / 510 grams

Max Weight Capacity

: 500 lb / 227 kilograms

Recreation Capacity

: 2 People

Sleeping Capacity

: 1 person (recommended)

Unpacked Dimensions

: 5 ft 7 in × 10 ft / 170 cm x 254 cm

Packed Dimensions

: 5.25 in × 6.5 in / 13.3 cm x 16.6 cm

Product Material

: Gravitas™ 40D diamond ripstop nylon with DWR waterproofing

Stuff Sack Material

: Diamond Shell™ 40D ripstop nylon with PU + DWR waterproofing

Suspension

: Kanga Claw™ carabiners (23kN); Dyneema Racer Sling™ (22kN)

Gear Loops

: 8 Loops

What's in the Package

: 1 × Roo Double™ Hammock; 2 × Dyneema Racer Sling™; 2 × Kanga Claw™ 
KAMMOK Roo Double Camping Hammock Features
(Click Image to Learn More)
Weight Capacity
The KAMMOK Roo Double Camping Hammock offers an amazing weight capacity of 500 pounds (227 kilograms) which is enough for you and your partner to have a relaxed and safe camping experience. It is not like the common double hammock which will break or give up upon frequent use. The Gravitas™ fabric used in this hammock will ensure that you get total safety up to the maximum weight limit.
Weight of the Hammock
KAMMOK Roo Double Camping Hammock is lightweight and easy to carry around on the go. It will not add extra weight to your backpack. Weighing at just 18 ounces (510 grams), you will feel lighter with this hammock. Less weight also means that it occupies less space when it is packed in the storage sack. When the weight of the carabiners is included in the total weight count, it goes up to 23 ounces. It is heavy as compared to hammocks of the same size from other manufacturers.  If weight is not your primary concern, then the features and design of KAMMOK are the best in this weight ratio. 
Comfort
The comfort of this hammock outnumbers others by a large margin. The perfect design and construction give you maximum coziness and peace of mind. It will not put stress on your body and keep you relaxed. The material is soft and smooth. When you are going double on this hammock, it ensures maximum comfort as well. When you are using it as a single-person hammock, it allows a complete diagonal lay ensuring that you stay relaxed and cozy.
Setting it up
Keep in mind that this hammock does not come with a suspension system, so you will have to arrange it yourself. It does come with climbing grade carabiners, which are sturdy and robust. Once you have arranged a suspension system, setting up this hammock is a piece of cake.
Protection
Triple stitching, high-quality material, and climbing grade carabiners ensure that you get maximum protection with this hammock. You do not need to worry about your hammock tearing up or getting roughed out. 
Durability   
With proper care and following user instructions, you can use this hammock for a very long period of time without any worries. The Gravitas™ 40D diamond ripstop nylon with DWR waterproofing material ensures that your hammock remains durable and goes a long way with you. This is one of the best materials being used for hammocks and KAMMOK ensure that their manufacturing process is quality controlled and you get nothing but the best. 
Versatility
Open hammock models do not offer much versatility. KAMMOK, on the other hand, ensures that you get the maximum value of money. The large size allows you to have a flat diagonal sleeping area and enough space for a couple of people to relax on a hammock. The side panels also offer some versatility by allowing you to utilize them as armrests. The gear loops along with each side help in hanging your important gear and keeping it safe from animals, dirt, and rainwater. It comes in a variety of colours; you can choose the one according to your choice.
Value of Money
It is priced at 79$ on the official website of the company. The price is consistent as compared to other top models in the same range. What gives the edge to this hammock is the quality of its material and stitching. It is also high on the durability side and goes a long way with your camping routine.
Overall Rating and Verdict
KAMMOK Roo Double Hammock grabs an 8 out of 10 ratings from our camping experts. It is a good buy for your double hammock camping needs.