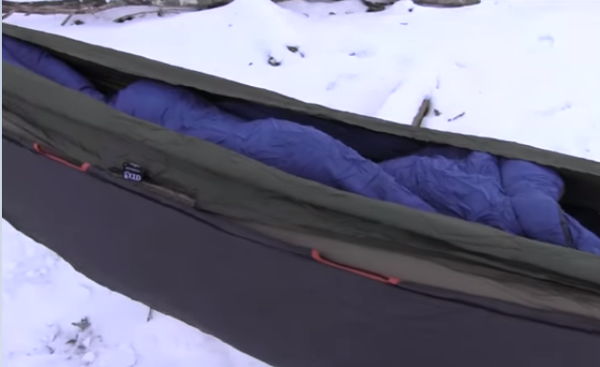 When you are going for a hammock camping trip in the winter season, you need additional protection from cold. One item to provide you warmth is the underquilt along with a top quilt and a sleeping pad. There are a lot of underquilts available in the market for you to buy. However, one underquilt which has gained a lot of popularity in recent times is the ENO Vulcan Underquilt.
In this review, we will critically analyze all the features of this underquilt so you can have a better assessment before buying it. We care for you and want you to spend your hard-earned money on quality camping gear.
ENO Vulcan Underquilt Description and Specifications
(Click Image to Learn More)
The ENO Vulcan Underquilt is designed to give you protection from extreme cold and keep you warm in your hammock. The quilt has been constructed with differential cuts which adjust according to the natural shape of your body to provide an additional layer of insulation and trap air.
When paired with a comparable top quilt, you will stay warm, dry, and have a peaceful sleep in your hammock. It is lengthy, and you will not have to worry about your feet or head getting out.
The underquilt is finished using water-repellent material that ensures that you and your camping gear remain dry.
Storage bag allows you to keep your underquilt safe and makes it easy to carry and store.  
ENO Vulcan Underquilt Specifications
Temperature Range: 35°-45° Fahrenheit (1.66 degrees – 7.22 degrees Celsius)

Material: Lining: 30D Nylon Taffeta, Shell: 20D Ripstop Nylon, Insulation: Primaloft® Silver Hi-Loft

Size/Dimensions: 6'2" x 4'

Packed Size/Dimensions: 7″ x 12″ / 17.8cm x 30.5cm

Weight: 25oz /709g
Now we will review every feature of ENO Vulcan Underquilt.
Review
Protection from Cold – ENO states that their underquilt works very well in the specified range of 35-45 degrees Fahrenheit. They have mentioned that you need a top quilt along with it to get the best warmth and comfort during a cold night. We have tested this item by setting up camps in the cold with and without the ENO underquilt. The difference was remarkable. ENO Vulcan works well alone, and even without a top quilt, you feel warm, and the extra cold does not make your backside icy.
Functionality with Hammocks of other Brands – When you are buying an underquilt from a specific brand, there is always concern about its functionality with other hammocks. ENO Vulcan works very well all the major brands of hammocks out there. You might need some modifications like attaching a few clips and loops. This is easy considering the warmth this underquilt provides.
Price – It comes at a price tag of 174.95 dollars. We have compared this price with the costs of all the underquilts available in the market. ENO offers the best price to features ratio. It is an economical deal to have.
Size/Dimensions – The size of 6 feet and 2 inches by 4 feet is big enough for most of the body types. As far as the width of 4 feet is concerned, it is quite large enough. The length of 6.2 feet works well with people who are 6 feet tall. An individual with a height of more than 6 feet will have trouble staying inside.  
Set up – Setting up is easy. You will be done setting up the quilt in just 5-10 minutes — all you have to do clip the carabiners and adjust the cords.
Weight – When you are backpacking, you need to ensure that you stay light with all your equipment. You need an underquilt which is light and easy to carry. ENO Vulcan weighs around 700 grams. It is lighter than other underquilts offering the same level of protection.
Durability – After spending a hefty amount of money on an underquilt, you will want it to be durable and reliable. ENO Vulcan is made from quality material and is stitched under strict quality controls that ensure nothing but perfection. The nylon is treated with durable water repellent which repels the water and keeps the inner lining dry. Primaloft® Silver Hi-Loft insulation works better than other underquilts and keeps you warm and cozy.
Storage Sack – It comes with a storage sack, which allows easy packing and carry.
Verdict
We recommend getting the ENO Vulcan underquilt because of its excellent protection from cold in the specified temperature range.
Protection: 9/10

Durability: 9.5/10

User-friendliness: 9/10

Value of Money: 9/10

Weight: 8.5/10

Overall Rating: 9/10
Pros
Lightweight and still high on protection
Synthetic material performs well when it gets wet
Durable
Easy to setup
Cons
Works well with an only specified temperature range. As soon as the temperature goes below 50 degrees Fahrenheit, you will start feeling cold.